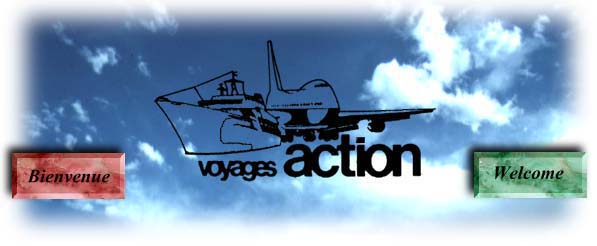 MONTRÉAL: 450-464-0363 / EXT: 1-800-331-0363
Si vous appréciez ce site, n'oubliez pas de l'ajouter à vos signets!
If you appreciate this site, don't forget to add it to your bookmarks!
Bienvenue
|
Welcome
Pour rejoindre VOYAGES ACTION par courrier électronique:
To reach ACTION TRAVELS by E-mail:
voyages@istar.ca
Dernières modifications: 05/02/02
Last modifications: 05/02/02
---

Nous vous recommandons fortement de visualiser ce site avec Netscape 2.0
We strongly recommande you to view this site with NETSCAPE 2.0
Si vous n'avez pas NETSCAPE 2.0 ou un navigateur compatible JAVA, essayez plutôt la version pour Netscape 1.x.
If you don't have NETSCAPE 2.0 or JAVA compatible browser, try the Netscape 1.x version.


---
Vous êtes le visiteur: You are the visitor.





This site is maintained by: Ce site est géré par:
landes@videotron.ca